The weekend just passed saw records tumble at two of the World Marathon Majors; London and Boston, with tens of thousands of finishers between them demonstrating that marathon running is alive, well, and awesome. Rather than rehash what better men and women have written about the two events, I thought I would highlight a few of my favourite stories from the two races and point you to others' work on the topics: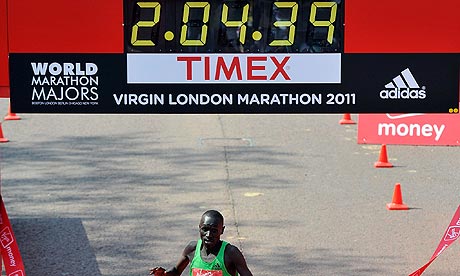 Epic.
Men's course record smashed at London – Emmanuel Mutai of Kenya won the London Marathon for the men in a new personal best and course record of 2:04:40. Mutai has been the perennial runner-up, having recorded numerous finishes just off the top spot at major races. London 2011 was his day to break out of that routine and step up to the world stage. He even adopted my Alloa tactic and chundered all over the finish line. Nice one, Emmanuel.
Martin Lel ran the most exciting second-placed race ever – Lel was only added to the London field a few weeks ago after Sammy Wainjiru dropped out with an injury, but pulled off an amazing performance to steal second place from Patrick Makau with just yards to go. Both recorded a time of 2:05:45. If you believe in such things, this was a clear example of Lel deciding to come second and Makau deciding to finish third. Lel has won in London three times already.
Mutai, Lel and Makau completed a Kenyan one-two-three, the first clean sweep by any nation since Great Britain did it in 1985.
British women are really rather good in London – top quality debut performances from Jo Pavey (2:28) and Louise Damen (2:29), though Liz Yelling had a more difficult day (finishing in 2:41, 13 minutes off her PB). Louise and Jo have both qualified for the world championships in South Korea this summer and next year's Olympics. Mara Yamauchi was out with injury and Paul Radcliffe will be making a return to marathoning in the autumn, probably at Chicago or Berlin.
British men are only quite good in London – Scotland's Andrew Lemoncello (born in Japan, has an American father, lives and trains in Arizona, but is half Scottish and grew up in St Andrews so represents GB, good times) faded and ran a painful race to finish in 2:15, missing his 2:12 target to meet the Olympic qualifying 'A' standard, and finishing 15th compared to 8th last year. Guernsey's Lee Merrien busted out a personal best of 2:14 to finish as first Briton and is on track to improve further. Both met the 'B' standard for the world championships and the London Olympics, which means they have qualified for the team events but not the individual competition. Sad times.
Two fairly ordinary blokes ran the Paris marathon, then ran to London, then ran the London marathon. Legends. Their website features a great and very detailed blog, as well as photos and maps and the like. I quite fancy this challenge for a future year, anybody else keen? Not sure I could step up to the gruelling pace these guys set, but who knows?

The usual round-up of ridiculous Guinness World Record attempts this year included a bloke in a gas mask, several fairies, a marching band, a married couple, an astronaut, several fruits and a Viking, among others. The most impressive is the fastest, David Stone's superhero record of 2:42:46 dressed as Superman. This isn't just the usual - where you find a record no-one has attempted and trot off a leisurely time - this is tackling an already-fast mark (3:01, Batman at London 2010), and smashing it. A cracking effort.
Two fairly ordinary people ran the London marathon, then hopped on a plane to the US, then ran the Boston Marathon the following day. Now that is amazing. Which brings me neatly on to:
Boom.
Fastest marathon ever is run at Boston 2011, in an outrageous 2:03:02 by Geoffrey Mutai. Second place is Moses Mosop, finishing his first ever marathon in 2:03:06! Haile Gebresalassie's world record of 2:03:59 (Berlin 2008) is safe, however, as Boston has too great a net downhill and the 20mph tailwind will have had an unduly generous effect, so this time doesn't qualify. But absolutely amazing nonetheless. The dream of a sub-2 hour marathon is still alive, no doubt about it.
Ryan Hall breaks the American record at Boston with 2:04:58, and actually is probably responsible for Mutai's amazing time as he pushed the pace for the entire race. American running is back on track, and Hall is probably the only man in the world right now who can step up next to the East Africans. Nice one, Ryan.
Speaking of East Africans, London and Boston's men's and women's races were all won by Kenyans. In the men's races, the two podiums were claimed by five Kenyans...and an Ethiopian. Amazing stuff.
In less world-shaking news, I've had a fairly turbulent running week, which I'll write up in the next few days. Stay tuned.
2011 to date - miles:

362.1

, parkruns: 4, races: 2, miles biked: 12.85