To cheer myself up in the non-running lull, here's something different. I thought I'd post some of my favourite running-related images - the iconic, the inspirational and the downright awesome. Some of them you'll have seen before, but hopefully one or two might be new to you. Click an image to see a larger version in a new window/tab. Enjoy.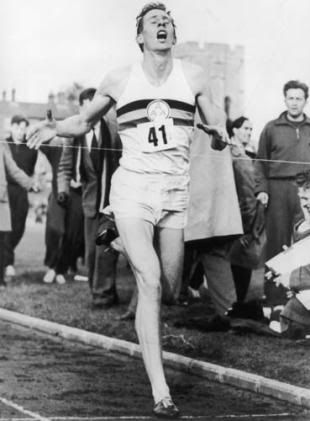 Roger Bannister running the world's first sub-4:00 minute mile at the Iffley Road track in Oxford in 1954. He spent two years working incessantly to achieve it, and ran the mile in 3:59.4. Before his achievement popular opinion agreed that it was impossible - Bannister proved the doubters wrong, and suddenly it was like a dam had broken. 46 days later his world record was broken by John Landy, and the mile record has been broken 18 times since that windy day in Oxford. This is the immense power of believing that impossible is nothing.

Rod Dixon (NZ) after winning the NYC Marathon in 1983. Geoff Smith (GBR), on the ground behind him, was ahead by 14 seconds at the 25 mile mark. Dixon mercilessly reeled him in and took the win in 2:08:59, with Smith's second place 2:09:06 still one of the fastest debuts of all time. Dixon's triumph is immense, Smith's defeat is absolute.


Dorando Pietri finishing first in the 1908 Olympic Games. Iconic for two reasons - first, this was the first marathon run at what we would now recognise as the standard marathon distance: 26 miles, 385 yards. Second, Dorando collapsed inside the stadium, just yards from the finish line. Two officials took him by the arms and helped him over the line, causing him to be disqualified, presumably by some other, less charitable officials. The medal went to American Johnny Hayes who crossed the line second, but Pietri's is the name that endures.
Dean Karnazes, American ultramarathon legend, displaying the kind of crazy calf muscles you get if you run 5000 miles a year and crosstrain like a lunatic... I mean seriously... I've written about him in a little detail in I need goals.
Usain Bolt winning the Olympic 100m final in Beijing in 2008. It's not the winning I love, or the crazy speed, or the four and a half miles between him and second place, it's the smile on his face. That man loves to run, and loves to race, and loves to win.


2011 to date - miles: 117.25, parkruns: 1, races: 0